Israel Points Hotels
Israel holds a unique place in the hearts of many across the world. The small country's popularity is not only due to its biblical-based historical heritage but increasingly because of its business and cultural profile. Cities like Jerusalem and Tel Aviv offer vibrant nightlife, startup hubs, and world-class food. As a result, Israeli cities have seen record tourists over the last few years. Here we discuss the best Israel points hotels, focusing on Tel Aviv and Jerusalem and how to earn the relevant point currencies through credit cards most optimally. We also have a guide on the best ways to get flights to Israel on points, miles, and credit cards.
An Overview Of The Israel Hotel Landscape
With so many tourists arriving in the country, it should be of little surprise that up until recently, Israel had a shortage of hotel rooms. In line with this demand, prices at hotels can be high, especially for stays during the most popular seasons, such as the Jewish holidays and the summer months. As a result, the cost can be even more out of proportion than other tourist destinations for those seeking luxurious accommodations. The differential is based on Israel's historical lack of luxury hotels which led to disparate pricing and further exacerbated the pain point, especially in the country's two main cities, Jerusalem and Tel Aviv. Thankfully, things have improved on the luxury hotel front with new players entering the mix, including international branded chain properties such as Hilton and Marriott and boutiques such as two of the three forming The Luxury Hotel Triangle in Jerusalem. According to Israel's Ministry of Tourism, as of 2020, Jerusalem had 88 hotels with 10,992 rooms, followed by Tel Aviv with 83 hotels.
Though things have improved on the supply front concerning luxury hotel options in Israel, especially in the most in-demand season, prices can still be high. Therefore, utilizing points and loyalty program benefits for booking points hotels in Israel is of particular popularity and interest.
URGENT LIMITED TIME "SIZZLING HOT" OFFER JULY 2023
Jerusalem Points Hotels
Going back a decade and a half ago, Jerusalem had almost no hotels bookable on points. Occasionally a new entrant would arise but would last for only a short period, such as when the Hilton Jerusalem arrived but then transitioned to the David Citadel Hotel shortly after its launch. The Alrov Group now owns the Citadel and is not part of an international brand bookable on points. Thankfully, there have been numerous positive developments since, especially in the last decade, as several new hotels with rooms redeemable for rewards entered the Jerusalem hospitality landscape. With that said, the COVID-19 pandemic inflicted casualties on the amount of points hotels in Jerusalem to include the loss of IHG's Crowne Plaza Jerusalem, which was rebranded to an unaffiliated VERT Hotel.
There are very few points eligible hotels in Jerusalem in general and only one from any of the four main programs, the Waldorf.
Hilton Honors Rewards Properties In Jerusalem
---
Starting At 93,000 Points
Jerusalem's most luxurious and sought-after luxury hotel bookable with points, the Waldorf Astoria Jerusalem Hotel, part of the Hilton brand, is an experience not to miss. Right across from the Mamilla Mall, which is filled with high-end shopping and restaurants, the hotel is minutes from the Old City and is in the center of Jerusalem. It is a fairly new entrant to the Jerusalem hotel landscape, opening in 2014 after a lengthy construction. It sits on a historic plot of land and where the historical Palace Hotel stood. The Waldorf has close to 200 rooms in various layouts, including suites and rooms with balconies overlooking the magnificent city. The hotel has a legendary breakfast that is quite possibly unparalleled. From a seemingly never-ending buffet of pastries to numerous cheeses, as well as hot dishes, the breakfast is renowned and must be experienced. Best of all, Hilton Honors members with Gold Status and above get breakfast for free. The easiest way to attain such status is by having one of the Hilton credit cards.
The hotel is in high demand, especially during the summer and Jewish holidays, but there can be a wide range of availability for standard rooms depending on the month. Standard rooms allow you to book for the minimum amount of points which currently, based on the dynamic award pricing, clocks in at a range of 93,000-95,000 points, as you can see in the image below.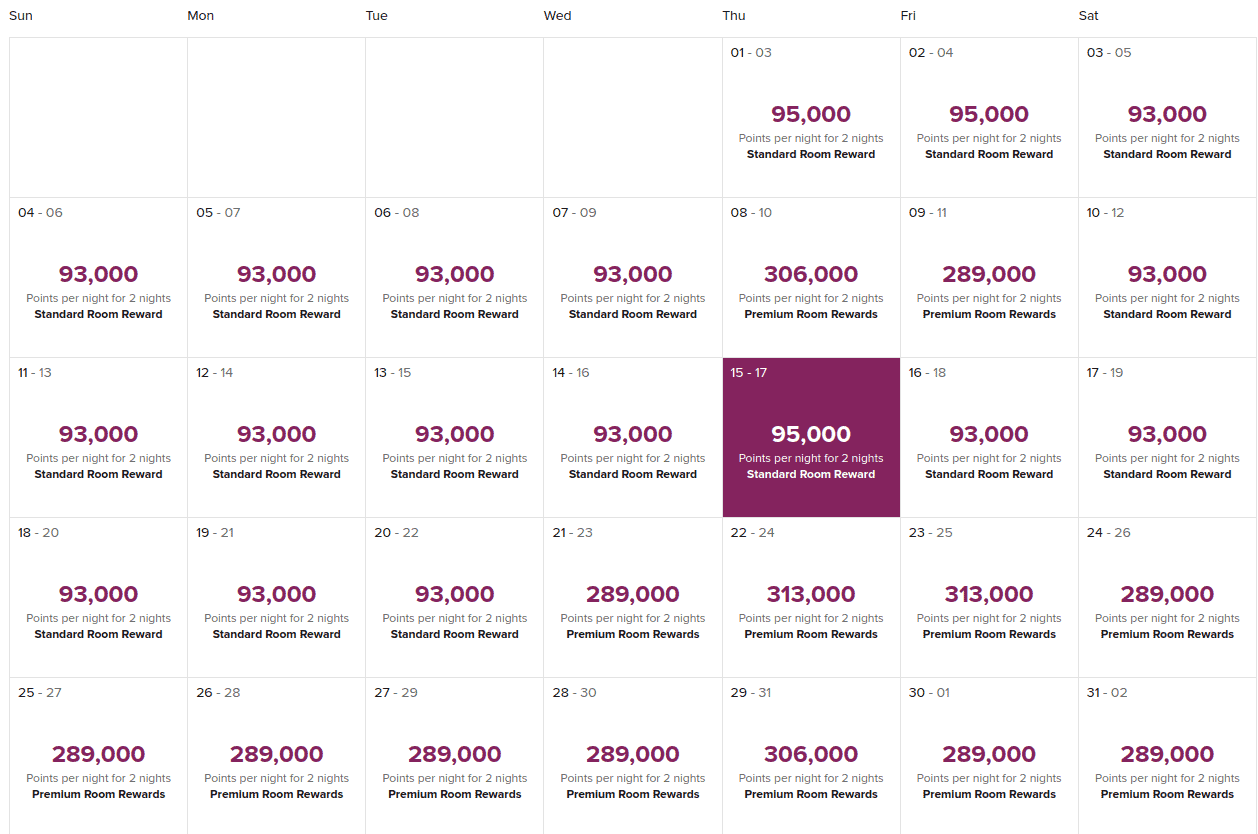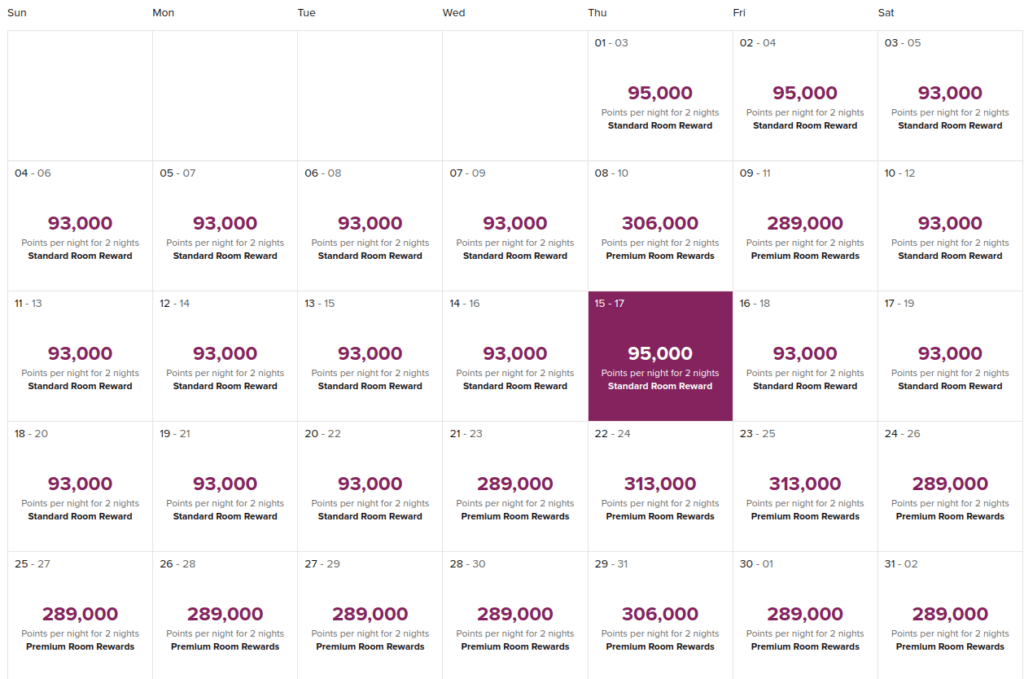 Part of the calculation of whether to use points for the Waldorf or pay in cash depends on how much the hotel is charging for the night in question. As you can see in the screenshot below, if the hotel is only charging in the $300 range and we utilize the prevailing value appraisal of Hilton Honors Points at 0.6 cents, then it makes sense to pay in cash, as the 93,000+ points would clock in at $500+ in value.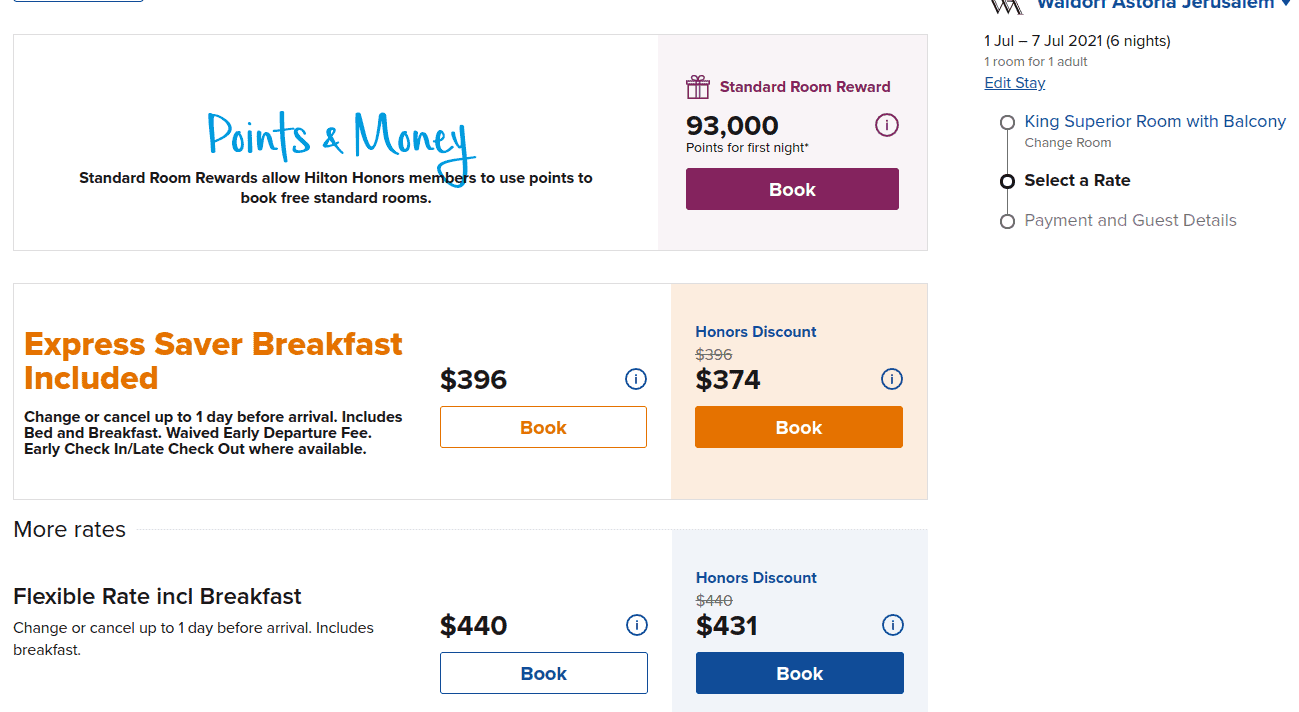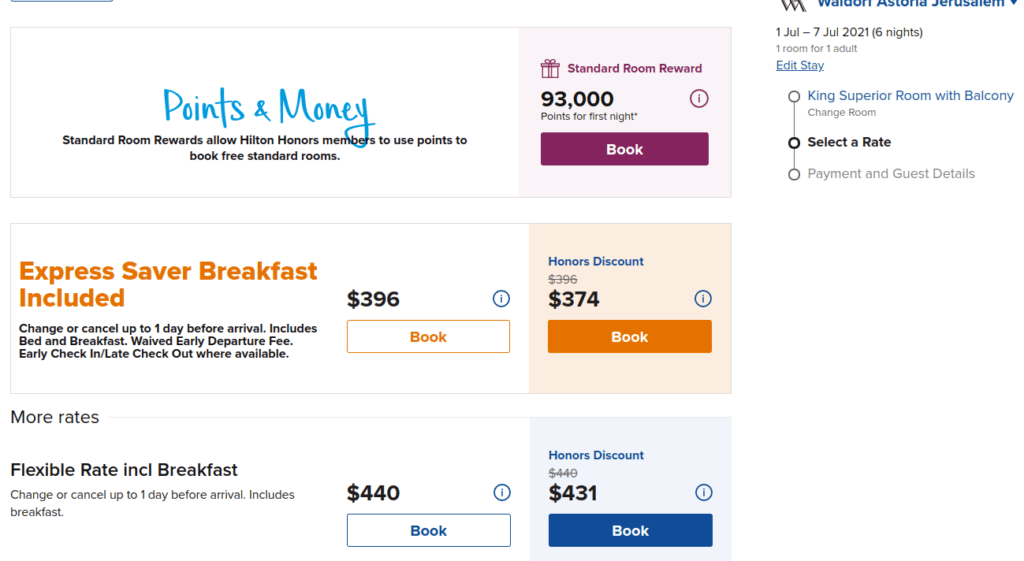 IHG Rewards Properties In Jerusalem
As mentioned, due to COVID-19, Jerusalem lost its singular IHG points hotel (The Crowne Plaza Jerusalem) and currently has no IHG options.
Marriott Bonvoy Rewards Properties In Jerusalem
There are currently no Marriott Bonvoy properties in Jerusalem.
Hyatt Properties In Jerusalem
Starting From Approximately 25,000 Points
Update July 2021: As DansDeals reports, Hyatt just added the American Colony Hotel to their portfolio of points redeemable hotels. The hotel is one of the highest-rated in Jerusalem, and its addition is a welcome one as Jerusalem currently has few points hotels. However, the hotel is over the green line, making it unattractive for some due to security considerations.
Tel Aviv Points Hotels
As the commercial capital of Israel, Tel Aviv has the most points hotels of any other Israeli city, including Jerusalem. The hotels on offer range from the more budget-friendly such as with IHG's Indigo and Crowne Plaza brands, to the high end with Marriott's Ritz Carlton, Herzliya.
Hilton Honors Rewards Properties In Tel Aviv
---
Starting from approximately 80,000 Points
The Hilton Tel Aviv is the quintessential beach property with direct access to Hilton Beach and an outdoor saltwater pool. The hotel also has multiple kosher-certified restaurants. On the front of the accommodation, rooms are spacious and offer balconies with ocean views.
Part of the Hilton Tel Aviv, The Vista is located on the hotel's upper floors and offers mesmerizing views of the Mediterranean. Staying at the Vista also provides access to the Vista Lounge, where guests can enjoy dining and drinks all day. The hotel is quite pricey when it comes to points redemption, and it makes sense to pay cash versus the 200,000+ points generally required.
IHG Rewards Properties In Tel Aviv
---
Starting From Approximately 50,000 Points
The InterContinental David Tel Aviv is centrally located by the beach and boasts balconies with sea views. It is the most luxurious out of all the IHG points hotels in Tel Aviv.
Starting From Approximately 50,000 Points
The Crowne Plaza Tel Aviv Beach is a beachfront property and is centrally located and offers views of the waterfront and the Tel Aviv Marina, which is next door. The best of the city from the nightlife, world-class restaurants, museums, and art venues are only minutes away.
Starting From Approximately 40,000 Points
A hotel located in the heart of Tel Aviv's business district, the Crowne Plaza Tel Aviv City Center is perfect for business travelers. Israel sees an increasing number of each passing year as economic activity grows and the startup ecosystem matures. The hotel is also a quick train ride to Ben Gurion Airport (less than 15 minutes), making it convenient for short business trips to "the startup nation." Other attractions nearby include the Azrieli Mall, which is next door, and the cultural Sarona district.
Starting From Approximately 40,000 Points
Located in Tel Aviv's Diamond District, the Indigo Hotel offers a boutique-style experience and a diamond and gem-themed accommodation scheme. A rooftop pool combined with an in-house spa takes this hotel to literal heights with panoramic views of a magnificent city.
Marriott Bonvoy Properties In Tel Aviv & Herzliya
---
Starting From Approximately 40,000 Points
The Sheraton Tel Aviv is also a beachfront hotel with spacious rooms offering balconies with sweeping views of the Med. With a number of in-house kosher restaurants and a spa, the Sheraton is a strong choice for those with Marriott Bonvoy points to redeem.
Starting From Approximately 70,000 Points
The quintessential points hotel, The Ritz-Carlton, Herzliya, is a must-visit for those who appreciate best-in-class luxury hospitality. The hotel is relatively new, opening in 2013, and boasts a classic Ritz style. Overlooking the Herzliya Marina, the hotel is a short walk to the beach, a host of restaurants, and a host of other points of interest. In addition to an in-house kosher restaurant, amenities also include an outdoor pool, rooftop bar, and a spa.
Starting From Approximately 50,000 Points
As is common with Tel Aviv Hotels, the Renaissance Tel Aviv is also on the beach. Boasting an indoor pool, rooms with balconies, and in-house restaurants, the hotel offers many amenities.
Starting From Approximately 40,000 Points
The Publica Isrotel is a concept hotel focused on affording guests the experience of meeting locals via its in-house social club. From the shared workspace to the club and restaurants on-premises, meeting and social activity is a core theme that runs throughout. Close to the beach, cafes, and art boutiques, this property is centrally located in Herzliya and is a short drive to Tel Aviv.
Starting From Approximately 50,000 Points
By the port of Jaffa and the Mediterranean Sea, The Jaffa is a luxurious 5-star boutique-style hotel in the building that was once Jaffa's French Hospital. Surrounded by boutiques and cafes, the hotel offers a laid-back and bohemian feel. The hotel offers amenities that include a pool, spa, and unique in-house restaurants.
Hyatt Properties In Tel Aviv
---
Starting From Approximately 40,000 Points
In our view, one of the most luxurious and unique points redeemable hotels in Tel Avis is The Norman. The first and only point hotel in Israel under the Hyatt umbrella is part of the Small Luxury Hotels of the World brand, which Hyatt added to their World of Hyatt rewards program.
The Norman sits at the intersection of historic and modern. Housed in two restored 1920's era residences, the hotel boasts of heritage and history. Amenities include an infinity pool and restaurants that are non-kosher. True to its boutique and exclusive vibe, the hotel only has 50 rooms and suites.
Branded Chain Hotels Vs. Boutiques
For those unfamiliar with the points landscape, it is essential to be aware that the primary value for using points to book hotels for free or steeply discounted is via points redeemable at the large branded hotel chains. With that theme, boutique and independently-run hotels, which are generally not part of chains, do not fall into the sweet spot for the use of points.
A Primer On The Core Hotel Points Programs
As we covered in our post on the Best Ways To Get Flights To Israel On Points, Miles, And Credit Cards, two core types of points can be utilized to book hotels and flights on the cheap. We have classified one as bank-based point currencies and the other as program-based point currencies. Bank currencies include Chase's Ultimate Rewards, Citi's ThankYou Points, and AmEx's Membership Rewards, among a host of others. In the context of points program currencies of hotels, the core lineup is Marriot's Bonvoy loyalty program, IHG's Rewards Program, Hilton's Honors Program, and Hyatt's World of Hyatt Loyalty Program.
Experts view Chase's Ultimate Rewards Points as the most value regardless of whether in comparison to a bank or program-specific currencies. The reason is that Ultimate Rewards can be most easily transferred to a whole host of loyalty programs at what is usually the most favorable exchange rates. Getting Chase credit cards that offer good sign-up bonuses and ongoing earning capabilities in the form of Ultimate Rewards is, therefore, one of the best strategies for building a strong points arsenal for use on hotels and flights.
Below, we overview each point currency framework, focusing on the nuances of the four main hotel rewards and point programs. There are other programs, such as Accor's Live Limitless, but they generally do not stack up in terms of the value that one can get from the four programs we cover.
Hilton Honors Program
Hilton has one of the largest property footprints, clocking in at more than 6,400 properties in close to 120 countries spanning close to 20 brands. The rewards program, called Hilton Honors, provides for a breadth of redemption options at practically any destination, including a number of properties in Jerusalem and Tel Aviv in Israel. The best way to earn Hilton Honors points is through the numerous credit card sing up offers along with spending on the cards.
Points Redemption
Like many points programs, Hilton operates on a dynamic points redemption model with rates ranging depending on the time and cost of the rooms for the selected dates of stay. Standard rooms generally range from 5,000 points per night on the low end to 95,000 points per night on the higher end. Utilizing the points explorer tool helps one research the number of points needed for a specific Hilton hotel.
Free Nights On Reward Redemptions
Hilton Honors offers a 5th-night free benefit to elite members (Silver Status and above) booking award nights which effectively acts as a 20% discount for 4+ consecutive nights of reward redemptions.
Earning Hilton Honors Points
---
IHG Rewards Program
The best way to earn points for the IHG Rewards program is by signing up for one of the IHG credit cards.
IHG Free Nights On Rewards Redemptions And The InterContinental Ambassador Club
In addition to the 4th night free on points redemptions for any stay of 4 or more nights when you have the IHG credit Premier card or above, you get additional benefits if you join or are part of the InterContinental Ambassador Club. The Ambassador Club offers various perks, including a free weekend night (with terms and exclusions) and late checkout at 4 PM (terms apply), among others.
Marriott's Bonvoy Program
The best way to earn points for the Marriott Bonvoy Rewards program is by signing up for one of the Marriott Bonvoy credit cards.
World of Hyatt Program
The best way to earn points for Hyatt's World of Hyatt Rewards program is by signing up for one of the Hyatt credit cards.
An Exciting Time For Israeli Travel And Hospitality
Though the last year was immensely challenging for Israeli hospitality and travel, the future looks optimistic for utilizing points at hotels in Israel. For example, DansDeals cites reporting that Hilton will be expanding their footprint of properties in Tel Aviv in the coming years. Still, with the world-class Waldorf in Jerusalem and the numerous properties in Tel Aviv and Herzliya, such as the Ritz, there are great hotel experiences to be had in Israel by booking with points.