Israeli Tourism Continues To Reach New Heights
Israel continues to break previous tourism records, according to the Tourism Ministry, with 4.2 million tourists entering the country from January to November 2019. That number will increase as December is a popular time for travel to Israel due to both Hanukkah and Christmas taking place during the last month of the year. 
The record tourism number for 2019 comes on the heels of three consecutive years of progressively increasing tourism numbers. To contrast 2019 to previous years, from September 2017 to 2018, the ministry logged 3.9 million visitors. For the calendar year 2018 as a whole, the 4 million visitor benchmark was crossed. 
Part of the drastic increase in tourism is due at least in part to a $93 million marketing drive promoting travel to Israel. A whole host of countries were included in the campaign to included Brazil, China, Germany, the Philippines, Russia, and the USA. The tourism ministry said the push generated an average increase of 13% in tourists coming from these countries. The campaign is in addition to grants given to entrepreneurs focusing on the tourism sector. There were also close to 4,000 new rooms added to the current hospitality landscape. 
The increase in tourism boosted revenue too. This year brought in $6.36 billion versus $5.4 billion from the year earlier. Tourism Minister Yariv Levin stated:
These impressive increases are a direct result of the strenuous work and revolutionary changes made by the Tourism Ministry, with an emphasis on expanding accommodation options in the country and reducing the cost of vacationing in Israel.
- Tourism Minister Yariv Levin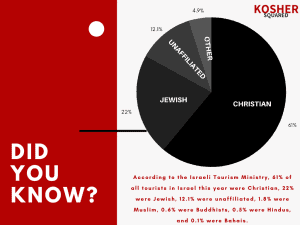 Much of the tourism to Israel centers around the Jewish holidays and Christian pilgrimages.  According to the ministry, 61% of all tourists in Israel this year were Christian, 22% were Jewish, 12.1% were unaffiliated, 1.8% were Muslim, 0.6% were Buddhists, 0.5% were Hindus, and 0.1% were Bahais. 
Another exciting trend revolves around the startup and tech ecosystem that Israel has become synonymous with on the international stage. There has been a marked increase in business-related travel from entrepreneurs as well as corporates. Illustrating this trend is the establishment of direct flights from San Fransisco catering to the Silicon Valley crowd.
Israel had an outstanding 2019 on the business transactions front, according to a newly released report by PWC Israel. The number of exits, including M&A and IPOs, came in at a whopping $9.9 billion. That represents a 102% jump compared to 2018, which clocked in at $4.9 billion. The total deal flow, including "follow-on" transactions, is a much larger figure and comes in at nearly $23 billion (up from 13.5 Billion in 2018). With so much commercial activity, we hope to see more economic tourism in the year 2020. 
Update December 9, 2019: 
The Israeli Tourism Ministry just announced that approximately 451,200 tourist admissions were recorded in November 2019, a 16.1% increase from November 2018 and 26.8% more than November 2017. Further, between January and November 2019, 4.2 million tourist admissions were recorded in comparison to 3.8 million in the same period last year, for an increase of 10.7%.