Parisian Vibes For NYC's Kosher Restaurants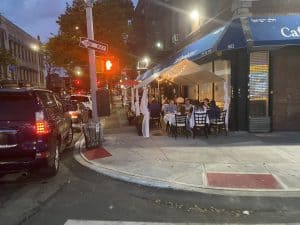 The trials and tribulations over the last few months brought on by the COVID-19 pandemic are wide-ranging. However, on the business continuity front, few businesses were initially hit as hard as those that depend on in-house dining. At the pandemic's peak, numerous New York kosher restaurants closed their doors altogether, not even servicing takeout and delivery. Even worse, some like Wolf & Lamb in Brooklyn and Jeff Nathan's Abilgael's in Manhattan have shuttered permanently. As we are still navigating through the pandemic, it is hard to truly predict the full extent of damage to the kosher restaurant landscape.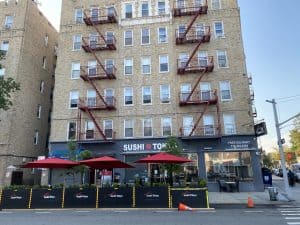 With so much destruction to the restauranteurs bottom line and other generalized havoc, it was welcome news when NYC announced it would allow eateries to expand their outdoor dining. In short, restaurants can transform the parking in front of their store into an outdoor dining space. Further, dining areas can also be set up on the sidewalk, even without securing the previously required license. With indoor dining banned from the outset, this change has allowed in-house dining to resume, albeit in an altered state. Even with the at times sweltering heat, we see a positive response from diners, with the spaces often full. The initiative has been so successful that it will return next year, and there is talk of even expanding it into the winter months. 
The craftsmanship and space styling varies from one restaurant to the next, with some investing more into making it a novel and unique experience. Some have even hired specialty builders to complete the scene. Regardless, the vibe is reminiscent of Paris and other European cities lauded for their ubiquitous alfresco style dining. 
With so much negative news over the last few months, looking at the positives is critical. In that spirit, we can get on board by adding a bit of the storied Parisian dining vibe to NYC.